Looking for a little pampering and polish? Who isn't? Let's face it, your nails take a beating. Whether you're a busy mom chasing kids around or a professional constantly typing emails, your nails deserve some TLC. Getting a manicure these days goes way beyond a simple polish change.
Salon services have expanded to include gel manicures that last for weeks, acrylics for longer extensions, nail art like ombré and marbleizing, paraffin treatments, and luxurious massages. Most of us need to switch from survival to self-care mode once in a while!
With so many salons to choose from in Columbus though, how do you pick the best? Where can you find top-notch services but not get stuck waiting hours for an appointment? Which spots combine skilled technicians with a relaxing environment at affordable prices?
We did the research for you to find the highest-rated nail salons in Columbus. These spots offer the full range of mani/pedi services executed to perfection in a comfortable setting.
We took factors like price, experience, cleanliness, and customer reviews into account to narrow it down to the top 5.
The 5 Best Nail Salons in Columbus, OH
Whether you live downtown, in the Short North, Clintonville, or beyond, these salons span the city. Each provides quality treatments at reasonable prices so you can get glam without going broke.
Consider this your guide to the ultimate best nail salons in Columbus, OH for your next appointment!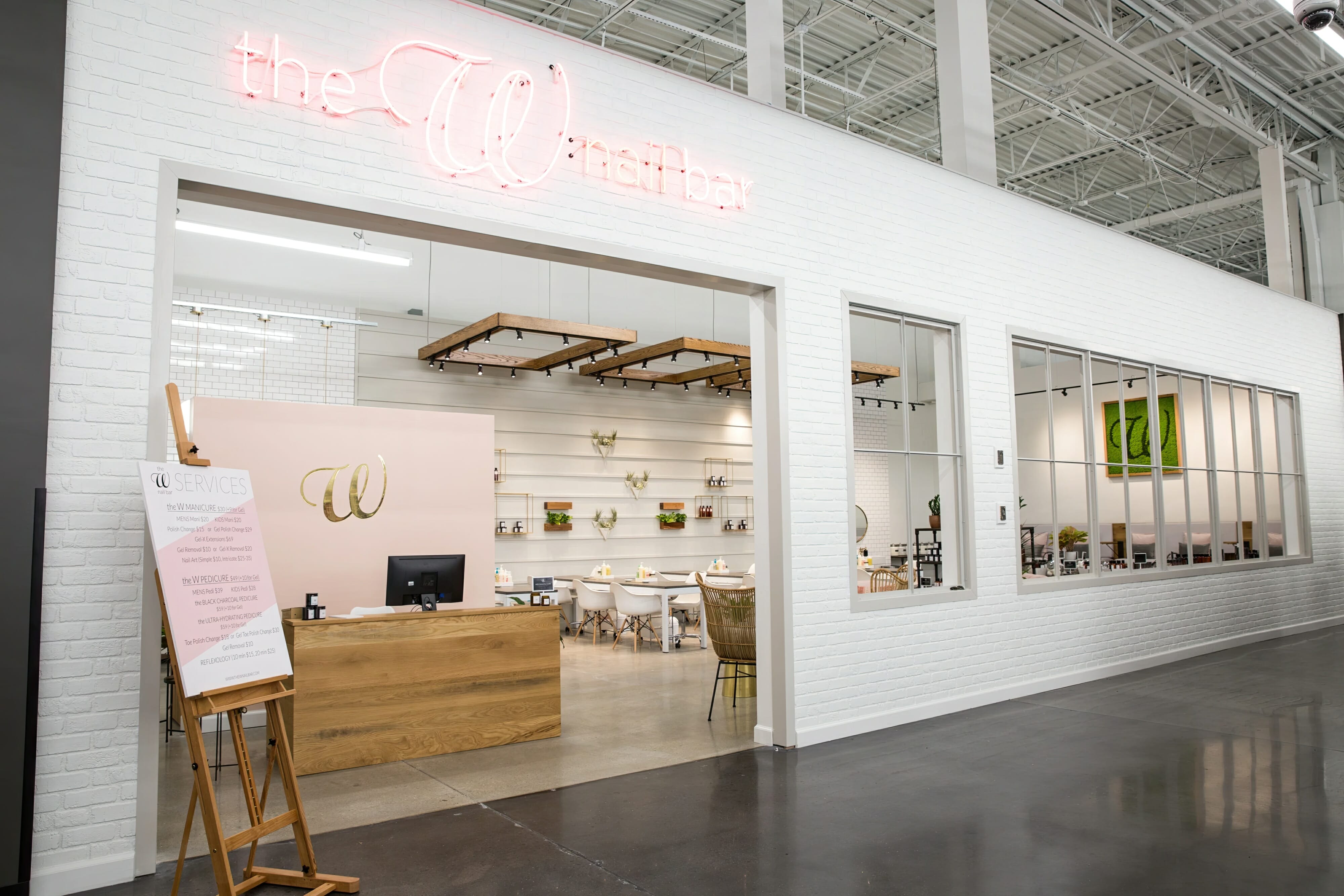 The W Nail Bar is the best nail salon in Columbus, OH. Founded by Ohio-born sisters Manda and Lauren, The W Nail Bar is a luxury, chic, and natural nail salon with two main principles in mind: cleanliness and customer service. The founders wanted to provide a fun, elevated nail salon experience while also ensuring safety and an ethical work environment for nail technicians.
The W Nail Bar is known for its talented nail technicians who create exemplary nail art designs. The salon offers a wide range of nail art options, divided into three levels based on intricacy, time demands, and materials. From light art with transfer or leaf foil to detailed hand-drawn art, there's something for everyone at The W Nail Bar.
They do boast a variety of services to satisfy your nail care needs. Their signature OG manicure includes nail and cuticle care, Epsom salt scrub exfoliation, a relaxing massage, and your choice of polish. For an ultra-hydrating experience, try the Dew Effect manicure, which features a nourishing scrub containing coconut shell, superfine Epsom salts, and essential oils, followed by a whipped butter containing avocado, shea butter, and SPF 30.
The W Nail Bar offers membership packages that include exclusive offers and perks. They have partnered with local businesses in Columbus, Cleveland, and Indianapolis to provide special promotions for their members every month.
In addition, The W Nail Bar also offers wedding packages and services to make brides and grooms feel their best on their special day. With bridal bundles, gel extensions, and the luxurious Something Blue manicure and pedicure options, The W Nail Bar ensures that your hands and feet look stunning for your big day.
Lacquer Gallery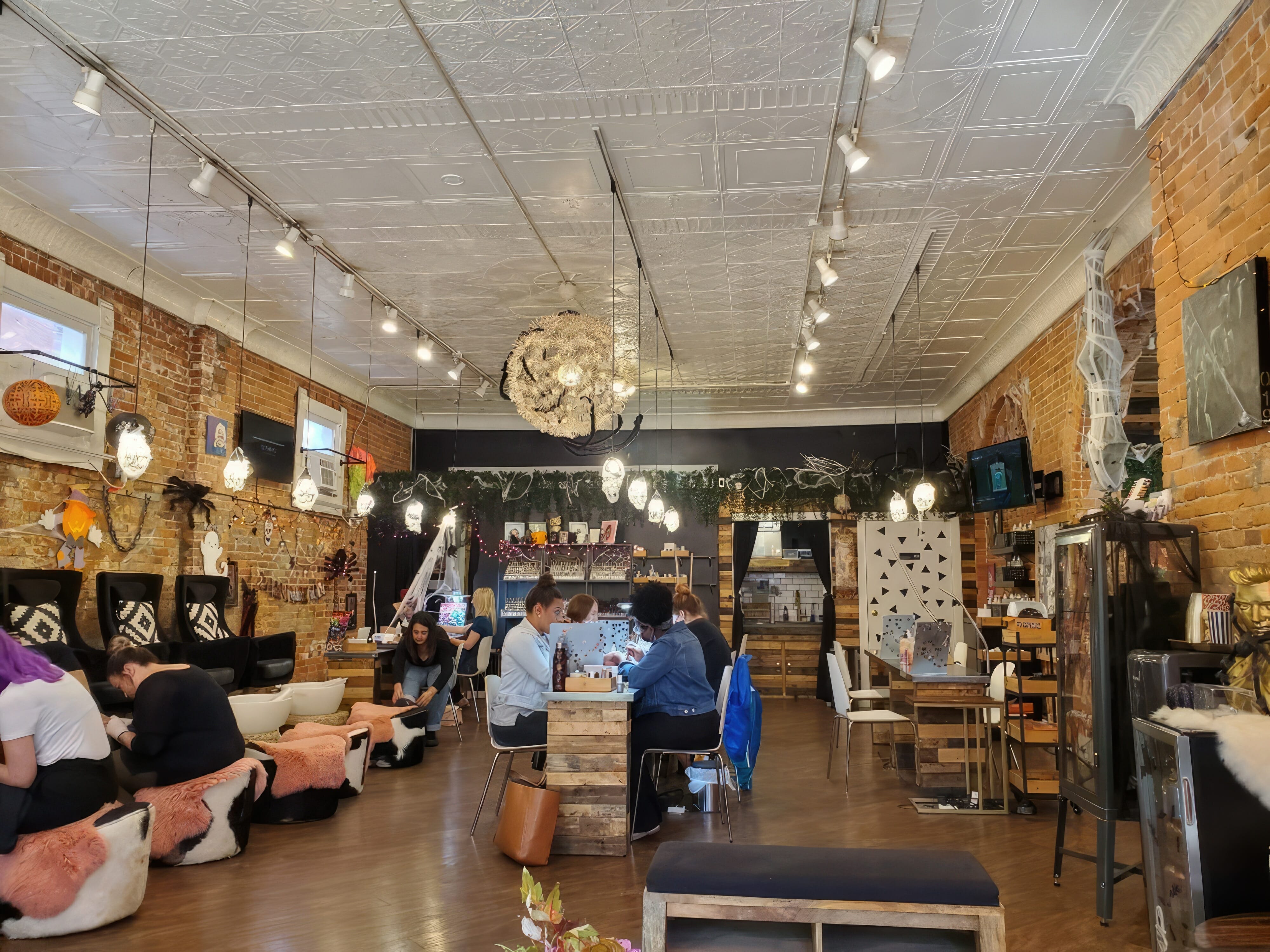 Lacquer Gallery is a one-of-a-kind salon boasting a wide range of beauty services. With a team of over 60 talented and innovative artists and specialists, Lacquer Gallery is dedicated to celebrating its guests and helping them feel beautiful. The salon's lovingly curated spaces showcase art, jewelry, and handcrafted products from Columbus' finest artists and female-owned businesses.
Lacquer Gallery provides various services to accommodate your beauty needs, including:
Nail services: Natural nail care, Gel-X, acrylic nails, pedicures, structured manicures, and nail art.
Hair services: Haircuts, styling, coloring, deep conditioning, and smoothing treatments.
Skin services: Facials, makeup application, makeup lessons, and bridal makeup trials.
Event hosting: The salon offers an open floor plan and plenty of space for hosting events, both in-house and off-site.
At Lacquer Gallery, you'll feel like you're in the cool, quirky loft of a friend, a welcoming home office, and a hideout for playing hooky. All in all, the salon has a fun, clean, and welcoming environment, where everyone treats you with respect and kindness.
La Vie Nail Spa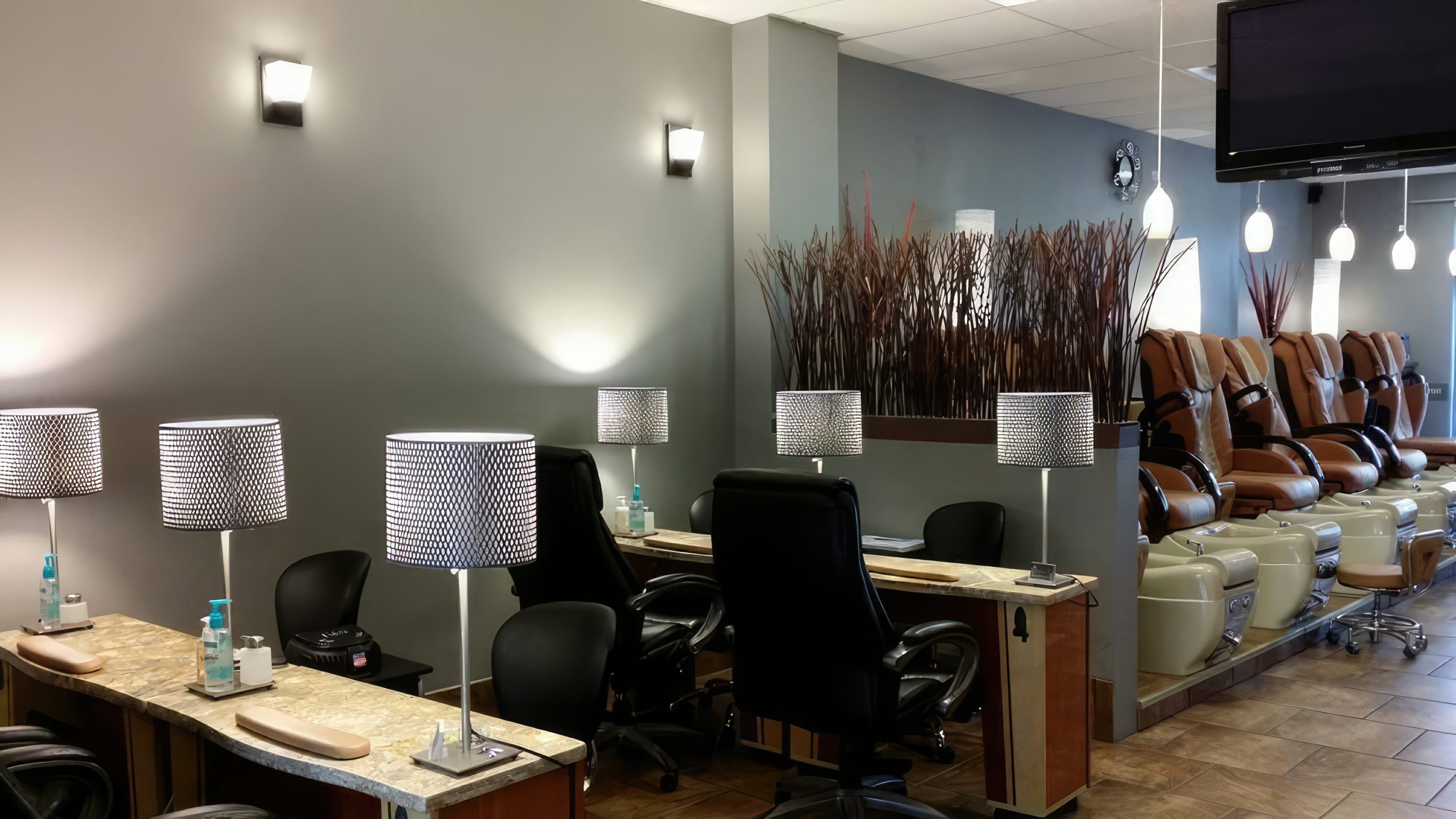 La Vie Nail Spa is another nail salon that is committed to serving its clients with respect and professionalism, ensuring a delightful experience and outstanding results. La Vie Nail Spa offers a wide range of services tailored to your needs and lifestyle.
Some of the services you can expect include:
Manicures and pedicures
Gel and shellac nail care
Nail extensions
Nail art and design
Waxing and hair removal
The staff at La Vie Nail Spa are fun-loving professionals with one objective in mind: to make their customers look and feel amazing. One of the salon's nail artists, Judy, has been praised as one of the most talented in the country. Clients can expect to receive the best advice on how to care for their nails at every appointment.
La Vie Nail Spa is dedicated to providing high-quality services and maintaining a clean and sanitary environment. The salon prioritizes sanitation and uses disposable nail files, buffers, and pedicure bowl liners to ensure a safe and hygienic experience for its clients.
Glow Nail Bar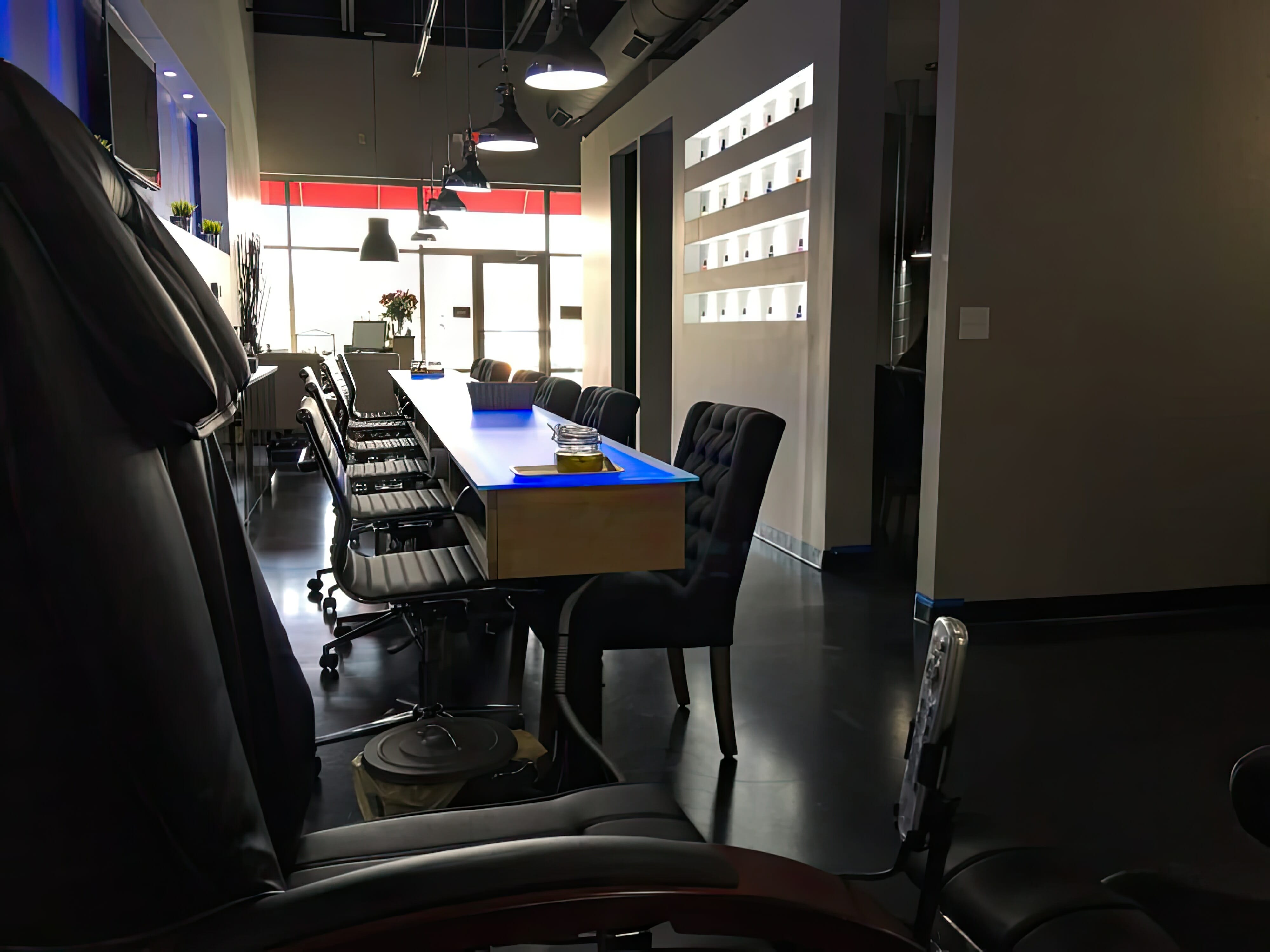 Glow Nail Bar is a modern-inspired salon that offers a wide range of services, including gel manicures, dipping powder, organic pedicures, acrylics, waxing, facials, eyelash extensions, and body massages. With 30 years of combined experience in the beauty industry, the Glow team is dedicated to providing world-class manicurist services and an unparalleled salon experience. Clients have praised the salon's friendly and highly skilled staff, with one reviewer mentioning that "Jason usually does my nails and pedicures but everyone there is great".
Glow Nail Bar's philosophy is centered around its clientele, striving to provide an unparalleled salon experience. The salon adheres to the highest industry standards, sanitizing and disinfecting all reusable nail tools following state regulations. The salon's commitment to safety and comfort ensures that clients can relax and enjoy their services without any concerns.
At Glow Nail Bar, clients can expect to find stunning nail designs and top-brand-name products. The salon's skilled technicians are dedicated to creating bespoke nail designs and spa treatments that cater to client's unique needs and preferences. Whether you're looking for a classic or trendy look, the Glow team has the expertise to bring your vision to life.
Glow Nail Bar aims to create a haven where clients can unwind, relax, and rejuvenate. The salon's luxurious, modern-inspired space seamlessly balances clients' needs and appearance through signature spa pedicure and manicure treatments. Clients can expect a warm and welcoming atmosphere, making their visit to Glow Nail Bar a truly enjoyable experience.
FUZZ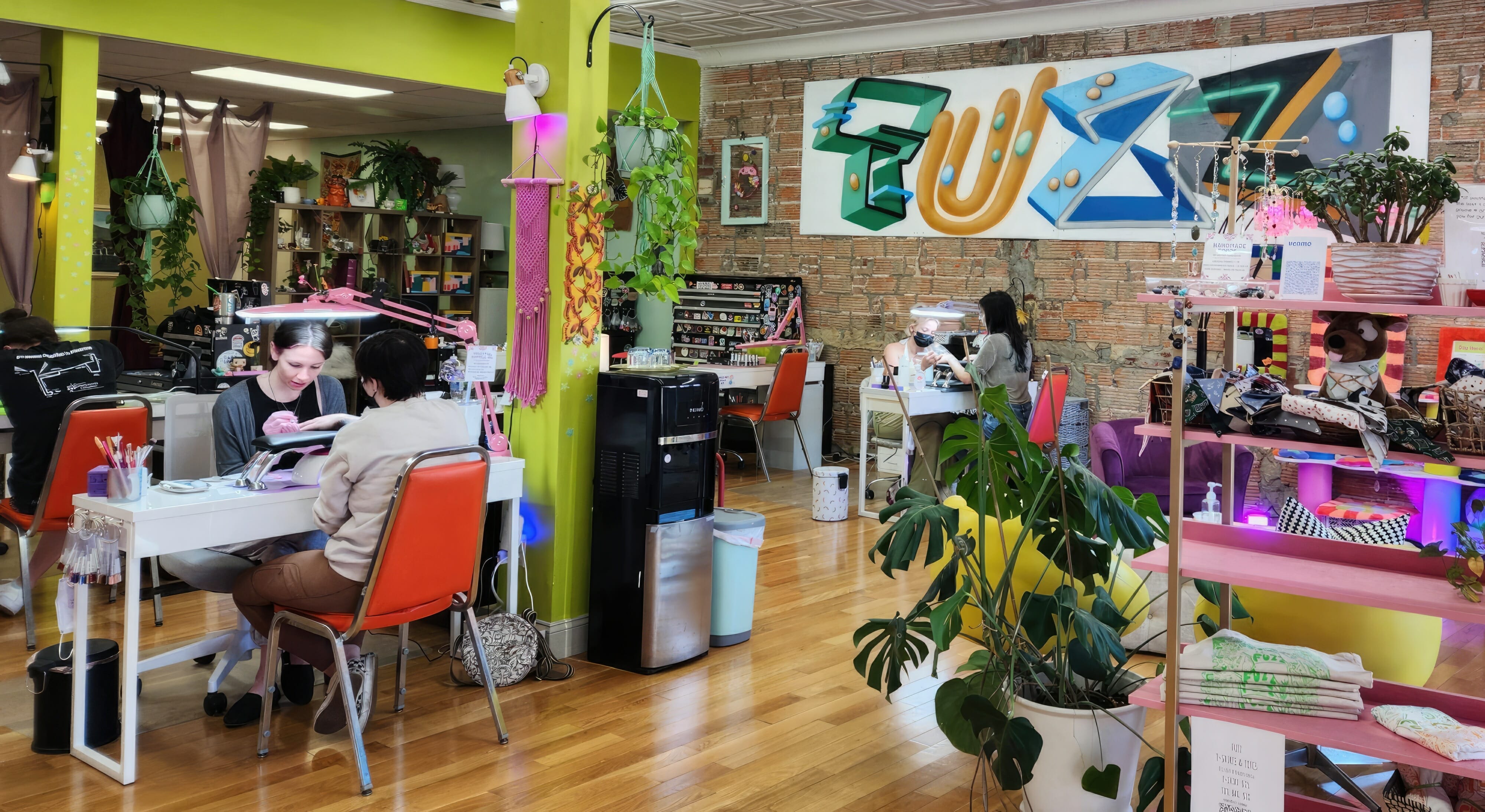 FUZZ is a queer-owned nail salon in Columbus, Ohio, that prides itself on being a welcoming and inclusive space for everyone, regardless of their gender identity or expression. The salon is trans and nonbinary-friendly, ensuring that all clients feel comfortable and accepted during their visit. This one-of-a-kind salon offers a cozy and clean environment where clients can relax and enjoy top-notch nail services.
Additionally, FUZZ has a collective of self-employed nail artists, each with their unique style and expertise, ensuring that you'll find the perfect artist to create your desired nail design. At FUZZ, their nail artists are dedicated to creating exquisite nail art that caters to various styles and preferences. Whether you're looking for a simple, elegant design or an intricate, eye-catching masterpiece, the artists at FUZZ have the skills and creativity to bring your vision to life.