Looking for a little pampering and polish in the concrete jungle? Searching for the perfect mani-pedi oasis where you can sit back, relax, and let talented technicians work their magic on your fingers and toes? Well, put away the Yellow Pages and stop Googling "nail salons near me" - we've got you covered! We audited and visited the top-rated nail salons across all five boroughs to help you find your new go-to spot.
With over 2,000 nail salons in NYC, finding the right one for your needs can be overwhelming. Should you go for the trendy SoHo haven with chic interiors and Instagram-worthy nail art? Or the no-frills neighborhood favorite offering quick manicures on your lunch break? What about staying closer to home or going somewhere near your office?
From charming hole-in-the-wall spots to spa-like luxury experiences, NYC has it all when it comes to manicures and pedicures.
The choices are endless, but not every nail salon is created equal when it comes to service, quality, and cleanliness.
The 5 Best Nail Salons in New York City, NY
We did the dirty work for you and curated some of the best nail salons in New York City for 2023 based on reviews, ratings, longevity, value, and attention to quality and customer service.
So skip the salon search and check out our handpicked list of the top spots for the perfect mani/pedi - whether you're treating yourself to a little self-care or need a quick polish change before a big event.
Your beautiful nails await!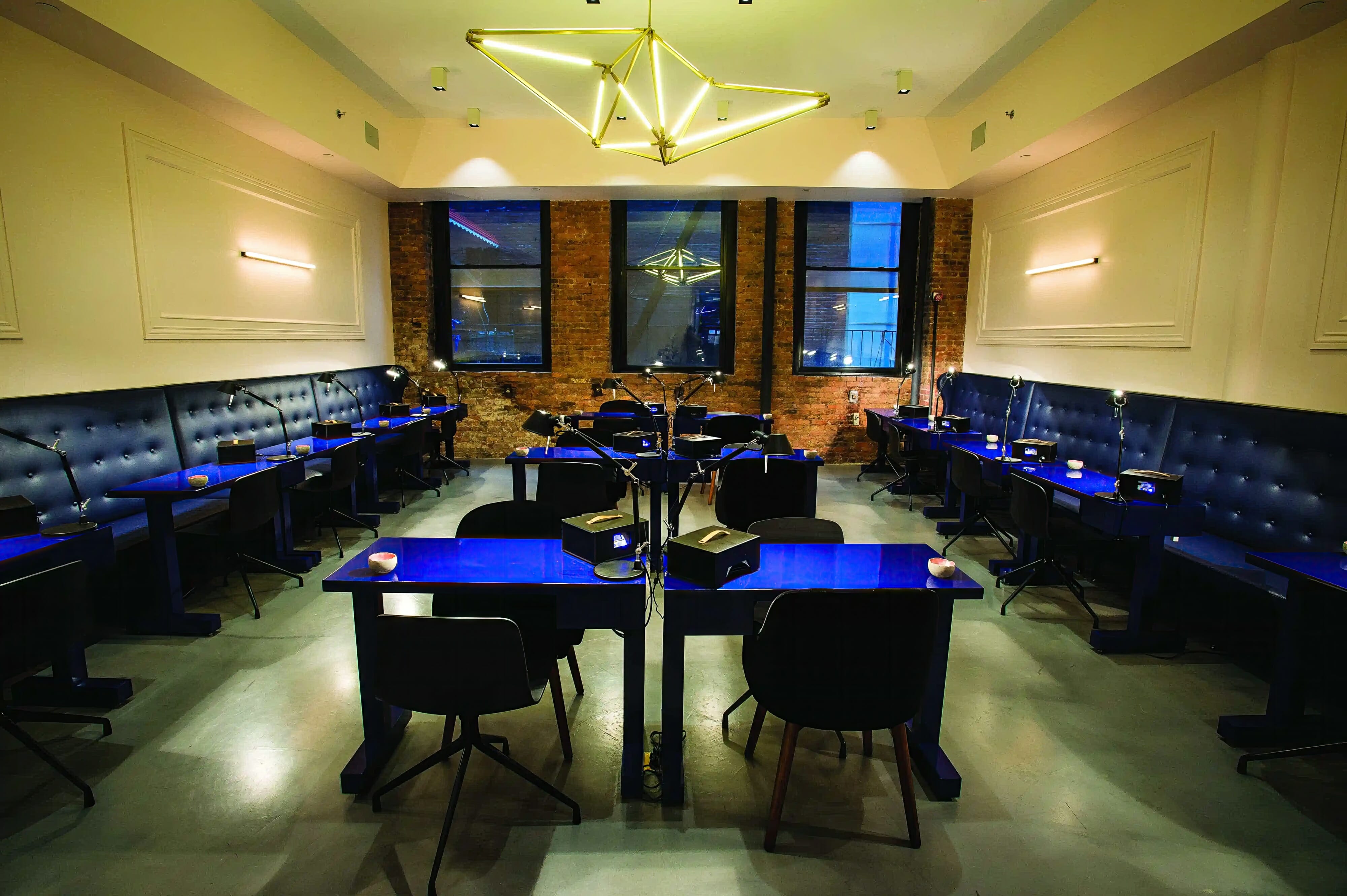 Paintbox is the best nail salon in NYC, a high-design nail art studio that transcends and transforms every aspect of the traditional manicure experience.
Established in 2014, Paintbox has become NYC's favorite nail art studio, exploring color theory and self-expression through hyper-curated nail designs and colors.
Paintbox offers a seasonal collection of edited nail designs inspired by runway and editorial trends, utilizing color theory, shapes, negative space, and linework to upgrade your manicure. The looks are fashionable but wearable and work-appropriate, so you can confidently flaunt your nails in any setting.
Paintbox provides a range of luxurious nail services, including Classic Design, Luxe Design, Bridal Manicure, and Healthy Nail Extensions. Their signature Paintbox dry manicure includes prep, shaping, and single-color application.
At Paintbox, the creative artists guide you through your appointment to ensure you'll nail your look. They are experts in their field and help you find a design that's within your comfort zone.
Paintbox has also introduced limited-edition press-on nails, which were launched at New York Fashion Week. These ready-to-wear nails are inspired by the studio's creative artists and modern iconic nail art looks.
Paintbox's The Paint Box is a custom-made manicure essentials kit that includes a striper brush, tapered brush, and a dual-ended dotting tool. It encourages women to explore self-care and self-expression through nail art, regardless of their experience level.
Chillhouse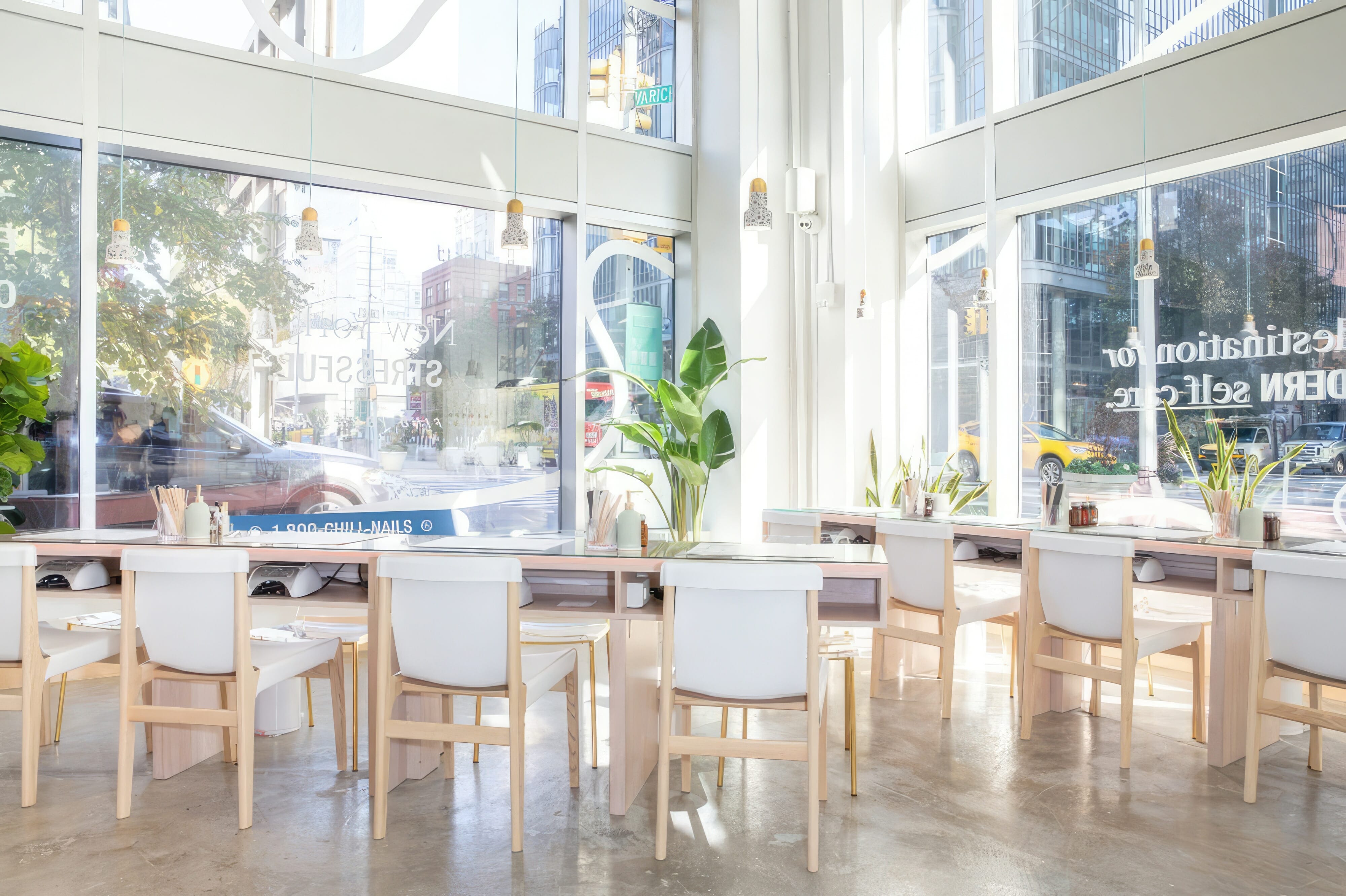 Chillhouse is a new-age spa based in New York City that offers a unique combination of services, including facials, massages, nail and pedicure services, and a wellness cafe.
Founded by Cyndi Ramirez-Fulton in 2017, Chillhouse has quickly become a popular destination for those seeking relaxation and self-care in a beautifully designed space.
Chillhouse offers a wide range of services to cater to various self-care needs:
Body Services: The Chillhouse Body program focuses on the function and intention of massage results. Services include The Works, Chill Pill, Invigorate, The Stretch, and Cupping.
Facial Services: Chillhouse offers facial services such as Quick Face, Clean Me Out, Chill Me Out, and Make Me Glow.
Nail Services: Known for its trendy, graphic, and multi-colored nail art designs, Chillhouse offers a variety of nail services. They also provide Chill Tips, a set of press-on nails that allow customers to achieve salon-quality results at home.
Heat Services: Chillhouse offers private Infrared Sauna experiences for up to two guests at their Soho Flagship location.
After the success of its Lower East Side location, Chillhouse expanded with a new Soho flagship location in 2019. The new location features loft ceilings, large windows, and a sprawling 3,200-square-foot space. The original Lower East Side location is currently undergoing renovations and will reopen as a "Face & Body Studio".
Chillhouse offers a subscription service called the Chill Tip Mystery Box, which delivers a surprise selection of Chill Tips to subscribers every two months. Subscribers also receive a 25% discount off the regular price and free shipping on all orders.
Vanity Projects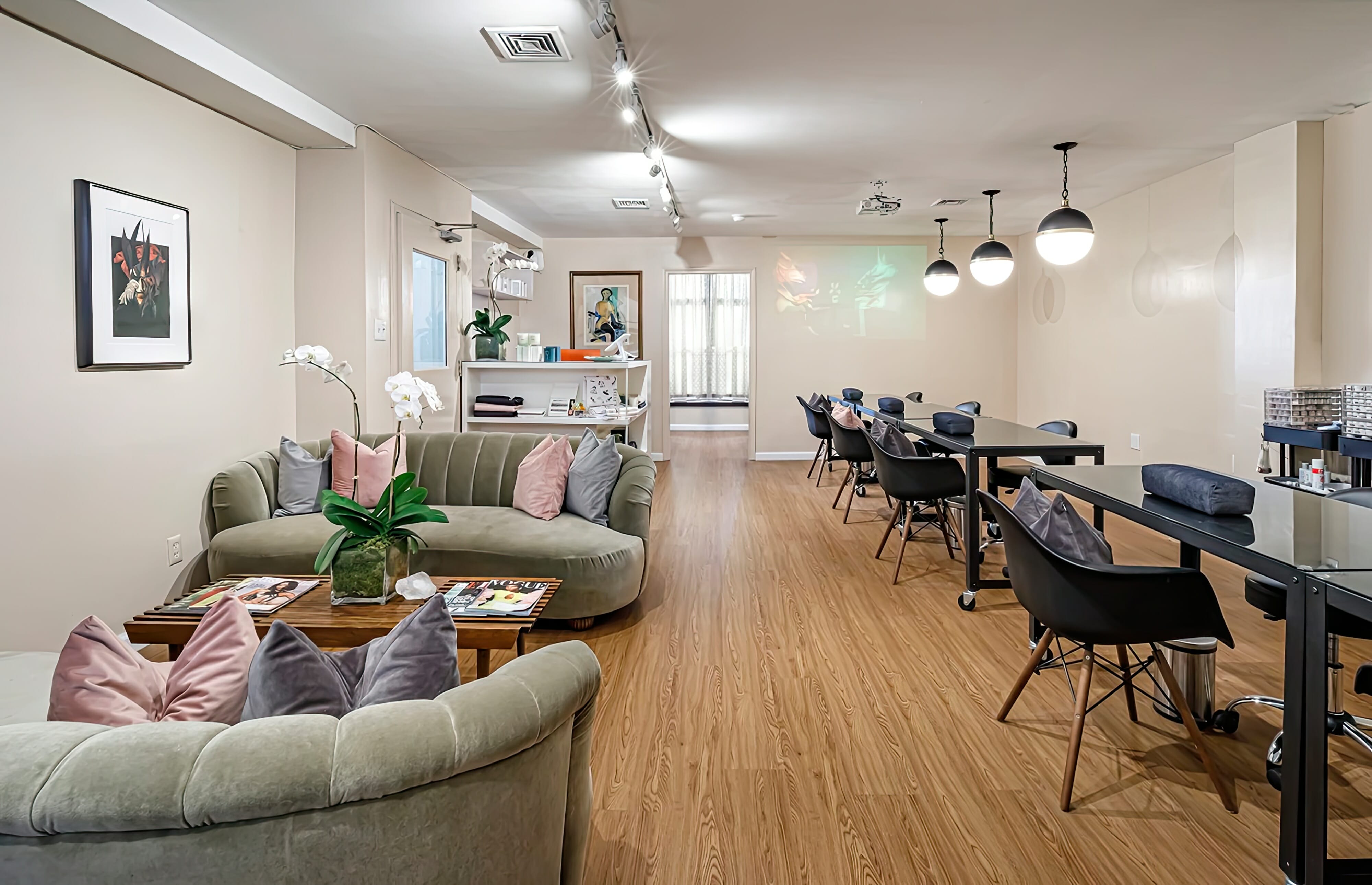 Vanity Projects is a luxury nail salon concept that merges a Japanese-style nail art atelier with video art programming.
Established in 2010, with locations in both New York and Miami, Vanity Projects specializes in innovative gel manicures from the most sought-after nail artists.
Vanity Projects offers a wide range of services, including:
One Color Gel
Simple Art
Nail Art (Middle-tier nail art)
Custom Complex Art (Detailed design on all nails)
Apres Gel-X Extensions
Vanity Projects works with the most creative and talented nail artists in the industry. Their artists offer unparalleled creativity, ensuring that your nails will be unlike any other.
Vanity Projects offers a variety of bridal services, including consultations and test manicures to achieve the perfect look for your special day.
The salon has launched a hybrid online education platform, Vanity Projects Institute, offering beginner and intermediate-level courses for professionals and hobbyists.
The Laq Lab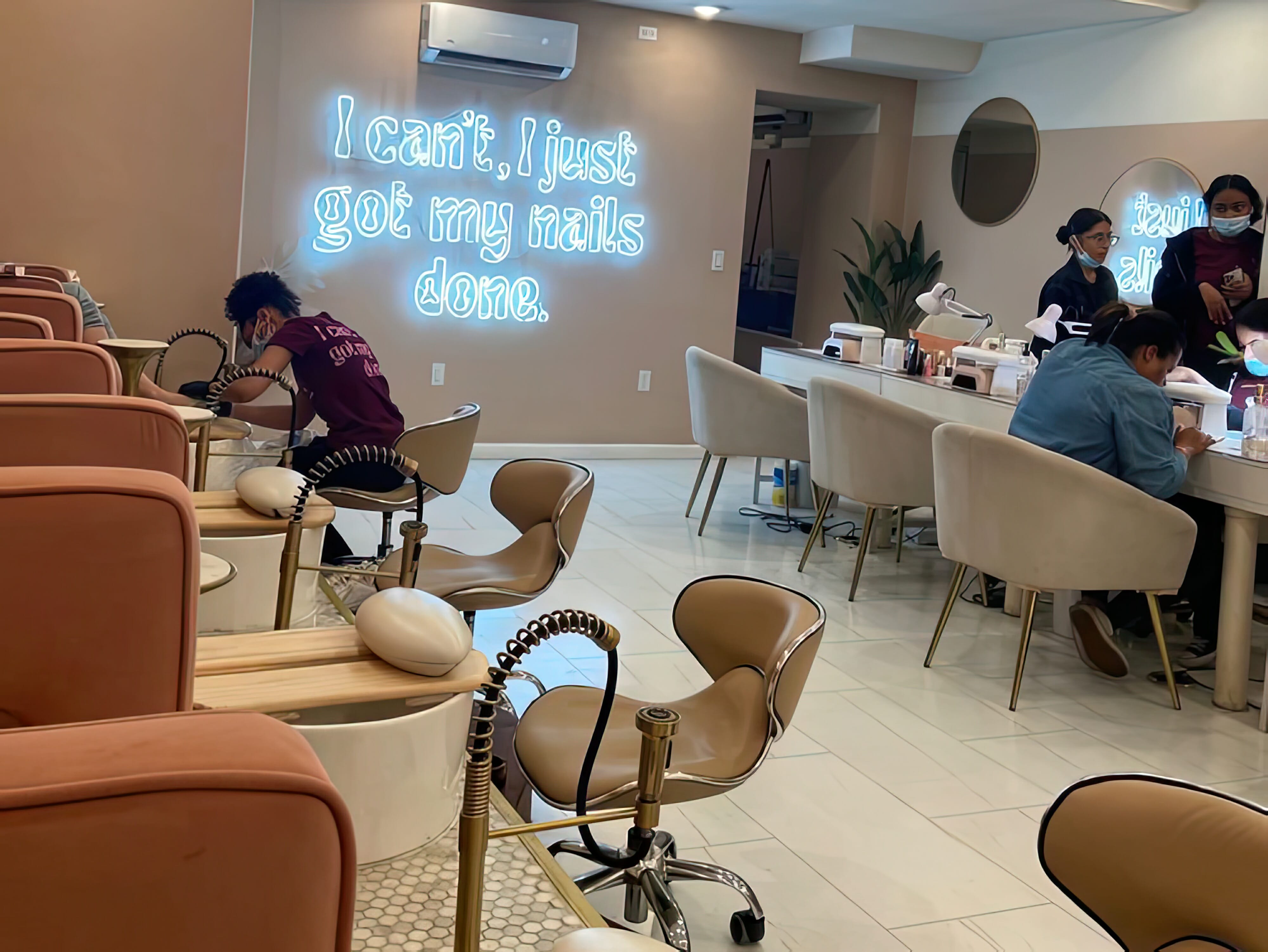 The Laq Lab is a black women-owned luxury nail salon located in the Park Slope neighborhood of Brooklyn, New York City.
Owned and operated by two young, talented black women, Lawren and Tasama, the salon offers an unmatched ambiance and aesthetic experience.
The Laq Lab has become a popular destination for nail enthusiasts in NYC.
The Laq Lab offers a variety of services and products, including:
Press-on nails: A selection of stylish and trendy press-on nails in various designs and colors.
Lab nail polishes: High-quality nail polishes in a range of vibrant shades, such as the fiery red "100 MPH".
Candles: The "Make You Mine" candle collection features three beautiful scents, perfect for setting a relaxing atmosphere.
Nail accessories: The salon also offers nail accessories, such as brushes and nail glue.
Getting your nails done at The Laq Lab can cost around $160 per visit, but the exceptional service, ambiance, and quality work make it worth the investment.
You can enjoy a rose pedicure or colorful nails to brighten your day, along with a choice of water or Bellini to unwind. Their press-on nails come in 24 nails with 12 different sizes to accommodate various nail shapes and sizes.
Besides, The Laq Lab is also dedicated to providing an inclusive experience for all clients. The salon also emphasizes cleanliness and hygiene, ensuring a safe and comfortable environment for all customers.
Sundays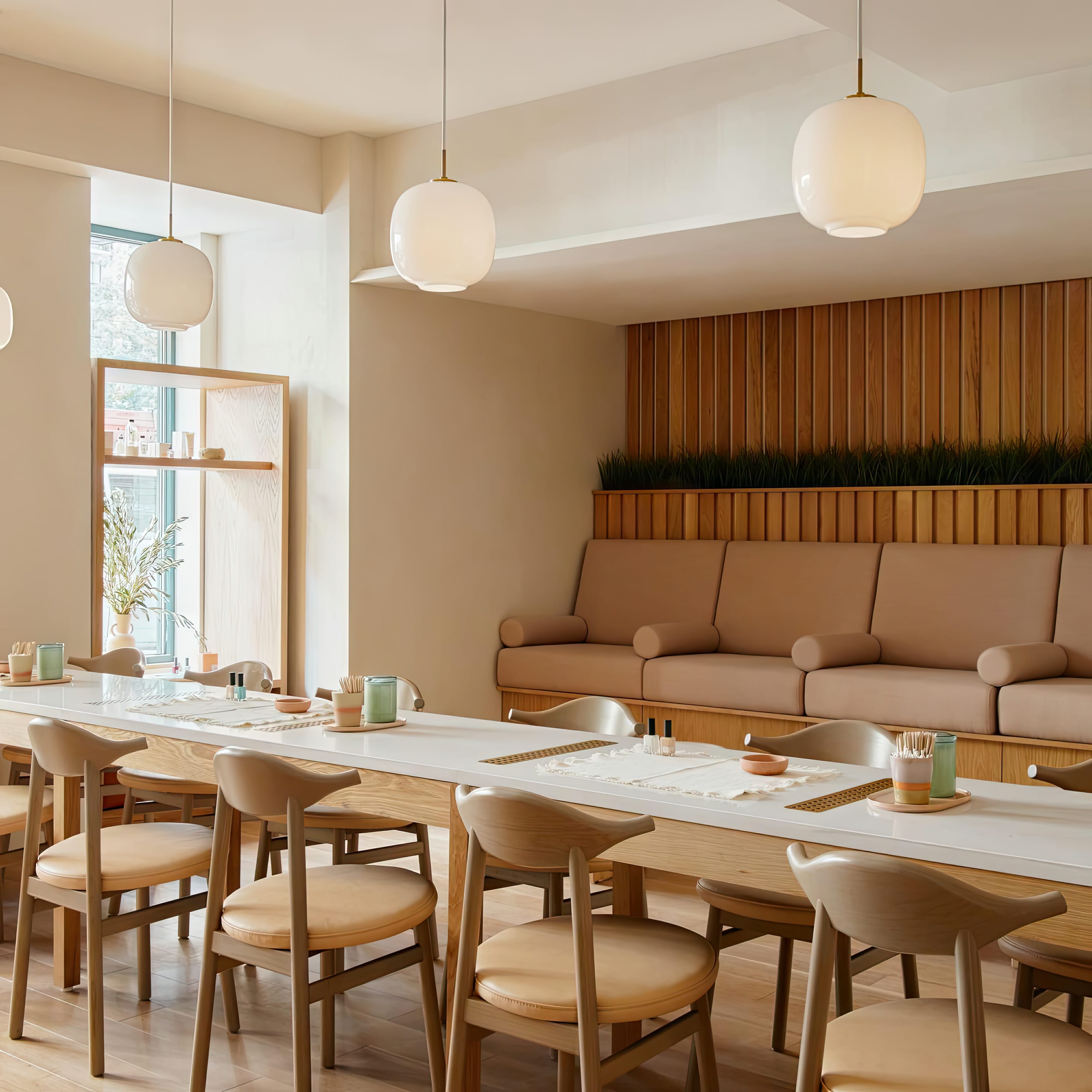 Sundays is probably the first 100% vegan salon in New York City known for its high-quality services and relaxing atmosphere. It's more than just a place to get your nails done; it's a wellness-focused experience that prioritizes your well-being.
With a commitment to providing non-toxic, vegan, and cruelty-free products and services, sundays ensures that you don't have to sacrifice health for beauty. But what makes sundays stand out from the rest?
The nail salon offers a range of non-toxic, vegan, and cruelty-free nail polishes and nail care essentials. Their 10-free formula ensures that their products are free from harmful chemicals, making them safe for both clients and employees.
Their most popular product, sundays No.13 is the winner of the Allure Best of Beauty 2020 & 2021 Nail Polish Of The Year. This chili pepper red shade is energetic, and spicy, and also will boost your everyday mood.
Besides, sundays also offers 'Guided Meditation Manicure', this 2-in-1 treatment includes all the pampering features of their Signature Manicure, accompanied by a guided meditation from Inscape, and fragrant essential oil treatment.
All in all, they always provide a rejuvenating manicure experience in their luxurious nail studios. Their technicians pamper clients with eco-friendly products and services, ensuring a healthy and relaxing experience.